Learn To Play an Instrument
Summer has always been a great time to chip away at a new skill. You can even enjoy practicing most instruments while enjoying the beautiful summer weather. But you dont have to do it alone. Get the help of one of our highly qualified teachers, who can even help you while you're on summer vacation, via Zoom. Trial lessons are free.
Learn from Home via Zoom! We've been doing lessons this way since long before the pandemic! Now you can learn with us from anywhere!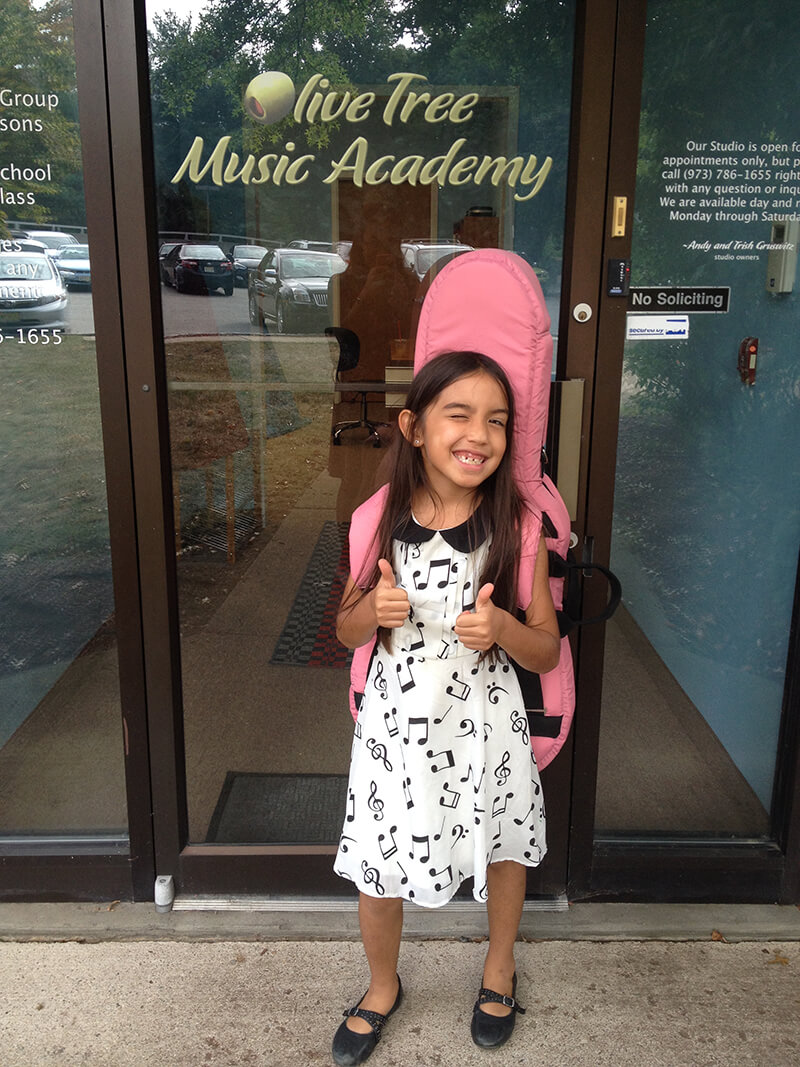 About Our School
The Olive Tree Music Academy is celebrating 12 years of providing north New Jersey with private lessons with some of the most likable, professional, and experienced musician-educators the region has to offer. Private music lessons are not an excuse to get people in the door so that they can buy more merchandise. Music education is literally all we sell. We offer incentives – something to work towards – if you don't already have a goal of your own. Recital are held twice annually. You are welcome here if you are a beginner, intermediate, or advanced on your instrument of choice. We teach all ages. For instance, we start violin as young as 3.5 years old. Several of our students are retired adults. We offer straightforward and easy billing and scheduling, all online. Most importantly, we tailor your learning experience to your learning goals, and we push you or your child to their greatest potential in a way that challenges and inspires. Call to set up your free trial today.
Our most popular instrument, the piano is a great foundation for music education. Sadly it is also the instrument we hear mentioned the most by adults who "used to" play an instrument. We have a passion to change this by making lessons more exciting than just the reward of turning the page.
The ultimate portable instrument! Voice lessons are the most personalized lessons and an intimate form of self expression. We can help you perfect your performance of that favorite show tune of yours or that love song you want to want to sing at your wedding. We will do this in a way that protects your voice and teaches you correct technical skills, and you'll have a lot of fun in the process!
The guitar is a great instrument, because you have a well rounded musical accompaniment to someone's voice in a portable instrument. It is a social instrument – a big hit at the park, the holidays, or the dorm room. If you have three basic open chords down, you can play hundreds of your favorite songs, but you can also keep getting better forever, like any instrument.
Our Morris Plains location and Zoom lessons offer percussion lessons, predominantly on the drum set. Our recitals are really livened up by drum covers of everything from the Jackson Five to Maroon Five.
Violin, viola, cello, and upright bass are the heart of the orchestra. Our highly qualified string instructors can help you work toward getting you into and helping you excel in a local orchestra. We also teach other string instruments like ukulele and mandolin.
Contact us for violin, viola, bass, flute, clarinet, saxophone, trumpet, french horn, ukulele, and mandolin lessons. We also teach song writing and music theory.
Meet the Owners
Owners Trish and Andy Gruswitz run the Olive Tree Music Academy with the help of their awesome little team, grown by two since this article in our local magazine.